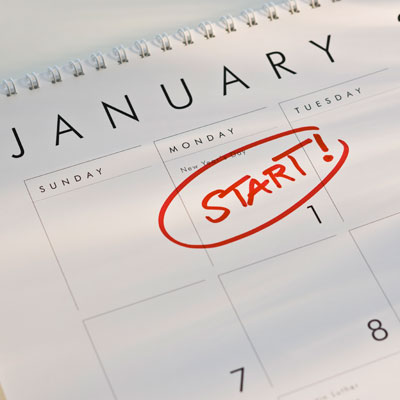 I am not a believer in formal New Year's resolutions. Fundamentally, I find the process filled with trapdoors virtually guaranteeing disappointment and/or outright abandonment weeks if not days after the dawning of a new year. The very fact that most people's first day of "new" behavior is supposed to be January 1, the day after many revel well into the night and wake up groggy and muddled and unmmotivated to do much more than find a couch, a remote, and a football game, sets whatever bar unrealistically out of reach for many on Day One! Need more proof? Simply visit your local gym on January 2nd (not the first, see above!) and again on February 2nd and do even a semi-scientific head count. The attrition rate is staggering and alarming for everyone but the club owner who has happily bounced on the annual resolution bandwagon and has an inbasket filled with newly minted year long clients, I mean contracts....
Does this mean I find change impossible or without merit? Absolutely not! It is my experience that for any change to be lasting and meaningful has to be internalized, self-directed, and almost always borne of some glaring realization of survival (in other words, without improvement, life is going to be materially worse; the status quo simply is no longer acceptable. Necessity is the mother of invention.... This oft cited axiom most often attributed to an anonymous author could easily be rephrased, "Necessity is the mother of real change."
So what does this soliloquy have to do with communication apps? Much of what I do professionally is to help small businesses work smarter. In today's world, this often means effectively utilizing the rich resources of technology to get one's job completed more efficiently and maximizing the human and capital resources at hand. Mobile communication has never been more ubiquitous. Smaller business have a real advantage of speedy adoption and necessity (see above) in implementing new tools and protocols.
While Apple itself will tell you that "over 90% of all large businesses or use or experimenting with iPads," these monolithic companies have layers of IT decision makers and other constraints making widespread use more challenging. (Venturebeat wrote a great article detailing larger company deployment issues, The iPad Is A Great Tool, If your IT Department Will Allow It.) I have worked with corporate IT departments throughout my career and many of their concerns rolling out highly customizable mobile devices such as the iPad are quite valid; this group has real challenges and must often serve multiple masters and mandates. The companies I currently primarily work with are smaller, more focused on creative, fast, problem solving, than on uniformity, security (at times to their detriment!) and other factors.
In the first part of this series, I thought I would present five "must have" communication tools which used alone can offer significant change and improvement in your small business (and yes many of these have great application for individuals!!). So, if you have resolved to "work smarter" this year out of necessity, desire, or even New Year's Resolution, here are five downloads to get you started:
Google Voice (Free; requires a Google Account (free)): This swiss army knife app can transform much of your communication activity and shave hours off your work week (or at least free this time up to tackle other issues and still make it to that spin class at your new gym). Actually, this service is difficult to sum up in a few sentences and you should click on this link to take explore this service more completely. A few of my favorite features include a unified inbox (your voice mail; text; call history; and much more in one place, available anywhere you have internet connectivity)!
A single number (for life; number porting now available) which can then follow you at your choosing-- don't want to answer calls from your Aunt while at work, no problem (and you can customize a greeting just for her so she won't even feel bad!); would you like to keep your cell phone off for clients while out on a date on Friday night? Want to answer your Can do! (Of course your clients will go straight to voice mail and you can be notified via email or text with a transcribed notice of their call.) Busy working and want to screen your calls, you can and then decide to pick up, send do voice mail, or otherwise handle. Have a call which you may need to reference? Google Voice will record the call for you. Of course all this and much more is maintained for you and is searchable at any time. This is a life changer and perhaps Google's most underrated service at this moment.... (Disclosure: I am currently hold a long position in Google $GOOG stock.)
GVConnect ($2.99; iOS-- iPhone & iPad): Ok, I have convinced you that Google Voice is a game changer. Google does have a native app supported by Apple (as of this writing). However, it doesn't have all the functionality Google Voice has to offer (ironic isn't it). Skip a tall Starbucks today and buy GVConnect, you won't be sorry. Like Google Voice itself, it is hard to synthesize all of this application's features in a paragraph or two. It has become my traveling "inbox" and I predict it will be yours as well. Once you experience the efficiency Google Voice coupled with GVConnect can bring to your life, you will wonder how you have survived without these tools in your life. I have contacted Andreas Amann the developer on a couple of issues over the years and he has been very responsive and supportive.
While not a "must have" Google Voice add on, Talkatone (free, upgrade to Ad Free version available; iOS) can prove especially helpful for those with limited talk and/or SMS plans. Free works any time of the year, and VOIP is the wave of the present and future much to the dismay of traditional carriers such as Verizon and AT&T. Talkatone has been especially wonderful when traveling out of the country! Roaming, what roaming!? International call rates, not for this guy! Add this app to your communication commando kit (just be sure to be comfortable with Google Voice before adding this to your App count).
Roboform (limited version Free; full version $29.95): If you can't log in, you can't communicate! Sometimes communication and productivity (and security!) require more than a call! In fact, voice calling is rapidly becoming one of the least use forms of communication (which is a good topic for another post)! Plenty of clients, friends, and family, stumble with authentication issues! Me too! (Can anyone remember all their passwords these days)? Filling out online forms is another tedium which sucks up minutes and hours in an already busy week. Roboform works across virtually all platforms, helps create and use secure passwords everywhere, and can fill in almost all online forms with a single mouse click.
If you are one of those folks using the same password across multiple sites "so you can remember," or one of those Post It password savers I find in cubicles everywhere!, you need to resolve to change this behavior now! It can make your life extremely difficult and perhaps bring your company and/or your personal life to its proverbial knees! IT folks despise weak passwords, repeated passwords, and never changing passwords (and for good reasons). Get on board in 2012. This app makes it easy and you will be able to log in through your iPhone, Android device, iPad, any computer, you name it! (Resolve to remember just one master password and don't put it on a Post It!) You won't ever want to go back!
LastPass (Free; $1/month premium): This App is a well regarded Roboform alternative. It performs many of the same functions across multiple platforms and is less expensive. I haven't personally used this tool in some years, but it is a secure, well regarded alternative to Roboform if you want to look at an alternative.
iTap RDP ($9.95; iOS and Android): Today's small business owners are mobile multitaskers; survival in the marketplace demands being able to address client needs and business opportunities quickly and efficiently. Mobile iOS and Android tablets offer efficient platforms only dreamt of five years ago. However, these tools aren't designed as desktop replacements. There are mission critical applications and files which only function on your Wintel or Mac desktop. This doesn't mean that you should be tied to your office! Having ready access to your programs and data can mean the difference between getting that new account, saving hours going back and forth simply to use a specialized piece of software or grab a file you now remember is critical, or even keep that all important vacation from being ruined. iTap, and similar programs such as Logmein (free iOS and Android), allow fast, secure, access to your desktop from anywhere you can find an internet connection. The Pad versions of this software are optimized for touch screens and allow full access to programs and files with remarkably little latency. I have utilized iTap RDP from halfway around the world; keeping clients satisfied and saving a much needed vacation from frustration for myself and my traveling companion (I am not much fun when I am thinking about a business issue instead of the next sailing adventure.).
Dropbox (free basic; $9.99-$19.99 additional space; multiple platforms): Sometimes just accessing your files is all you really need. (Think about that cover letter for your client you began at the office and want to polish at home. How about a photo of a client's other property you want to show off over lunch.) When this is the case, Dropbox is the solution. The free version allows file synchronization across platforms, effortless file sharing (even to non-Dropbox users); and more. Many app developers are "baking in" this utility for their iOS and Android applications. If you have more than one productivity device in your life, and who doesn't, Dropbox is guaranteed to save you hours of time and frustration.
This is a "busy" area and Dropbox is likely to find some significant market competition from Google and others in 2012. (Walter Issacson, in Steve Jobs wonderful biography, describes a meeting Steve held with Dropbox where he famously declared, "You have an application, not a platform.") Ultimately, it has been stated that Steve offered the founders "nine digits", which was subsequently turned down. Since this encounter, Apple has entered this arena with iCloud, which has debuted with some success and some frustration for early adopters.
The lines between communication and organization have blurred in today's always connected, always plugged in, world. Without one it is increasingly difficult to be effective with the other. In the next installment on this topic, I will cover some additional apps which can bring efficiency, and organization, to your world. However, like a New Year's resolution, these apps are of no value if you simply download them and add them to your technology "bucket list." These tools, individually or collectively, have to be integrated into your daily communication flow to pay benefits. Try one, try them all, but make the effort to get to know what each of these tools capabilities truly are and enjoy the dividends of a more organized, connected, new year! I'm off to jog around the neighborhood (work outs are a resolution in my life, they are part of a lifestyle). I know when I get back all my inboxes will be organized and waiting....
Have an app that has changed the way you communicate? Have a story about how one of these tools has made your personal or professional life materially better? Please share your comments here or contact me directly.

This commentary is not meant as an endorsement of any company or to provide financial advice. If the author has any financial interest in any company mentioned at the time of this article's posting, it will be explicitly noted. I welcome feedback and comments.
All rights reserved @2012, Music Row Tech (MRT). Any reproduction without the author's consent is prohibited.